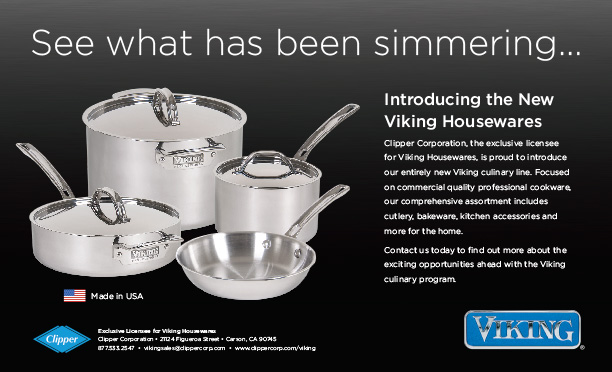 Clipper Corporation Launches Ad Campaign for Viking Culinary Line
Clipper Corporation – a supplier of commercial cookware in the foodservice industry – announced the launch of the VIKING® Culinary Line with an advertising campaign which appeared in HomeWorld and Gourmet Insider magazine.
"Our plan is to build Viking Culinary into a significant top-of-the line consumer brand on the international market. We want this to be the preferred brand for retailers and their customers," explains Jeff Malkasian, Executive Vice President of Consumer Packaged Goods for Clipper Corporation. "Maintaining the image and quality that the world has come to associate with the Viking brand is our ultimate goal."
Click here to view a full-size PDF of the ad.
About Clipper Corporation
Founded in 1994 by award-winning entrepreneur Lina Hu, Clipper Corporation is recognized as a leading global distributor and supplier of professional kitchen accessories and restaurant supplies for national and global chains, including Capital Grille, Denny's, Yum Brands, Darden Restaurants, UPS, California Pizza Kitchen, TGI Fridays, among others.
In 2014, Viking – the manufacturer and marketer of premier kitchen appliances worldwide – chose Clipper Corporation to develop and launch this top-tier kitchenware program under an exclusive licensing agreement. Clipper is the sole manufacturer and distributer of the new Viking Culinary collection, with the ultimate goal of maintaining the image and quality that the world has come to associate with the Viking brand. The Viking Culinary collection encompasses cookware, cutlery, tableware, barbecue tools, cutting boards and other non-electric kitchenware.
About Viking
Viking Range, LLC originated ultra-premium commercial-type appliances for residential use, creating a whole new category of home appliances. Committed to innovative product design, unrivaled performance and peerless quality.
Viking is headquartered in Greenwood, Mississippi, and is a subsidiary of The Middleby Corporation, a long-time leader in commercial kitchen technology. Viking appliances are recognized globally as the foremost brand in the high-end appliance industry and are sold through a network of premium appliance distributors and dealers worldwide.