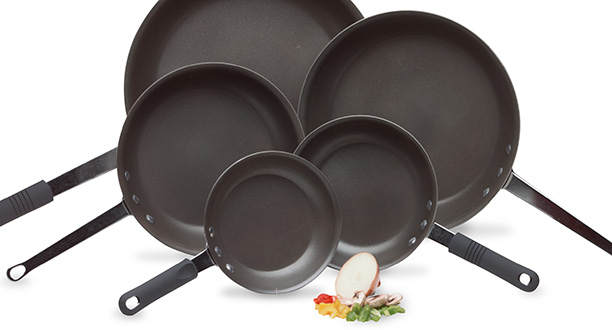 Cookware
Cost, maintenance, metal type and shape are all important considerations in creating cookware and they determine the long term reliability of a product. Clipper uses the sturdiest and most durable materials available, because we understand the foodservice industry's needs.
Our cookware represents innovative designs that are chef-tested and restaurant proven for simple and convenient cooking. Our pans are made from 3004 aluminum, have heavy-duty rivets and come in a variety of surface finishes, handle designs and sizes.
Project Cost Attack
Issue: Frying pan spend out-of-control!
Two-Pronged Solution: Clipper designed longer lasting pans which cut annual costs by 27% while optimizing frying pan selection to reduce unique inventory items.